BlueWater Wellness Center
BlueWater Wellness at Admirals Cove - Jupiter, FL
Admirals Cove residents relish in the community's world-class amenities, and the BlueWater Wellness center does not deter from this standard. This facility offers everything one could need for the ultimate healthy, yet pampered lifestyle.
Salon

Full-Service Salon
BlueWater Salon offers a full range of services to provide top-of-the-line hair care, nail care, and more in an inviting and chic environment.In the nail salon, residents can choose from 7 different manicure services or 6 diverse types of pedicures. For optimal hair care, master stylists offer everything from cut and color to blowouts and keratin treatments.

Barbershop
For the men, The Club at Admirals Cove offers a traditional barbershop complete with a licensed barber in a stylish, contemporary atmosphere. Here the men of Admirals Cove can enjoy cuts, manicures, and pedicures geared towards them as well as a hot lather shave.




Fitness
Facility
BlueWater Fitness Center supplies the Admirals Cove residents with everything they need to reach their optimal health and fitness level, including top-of-the-line equipment, a pilates studio, certified personal trainers, group exercise, and physical therapists.
Group Exercise

The group fitness program gives residents a chance to discover new exercises, be social, and stay active. Residents can also schedule one-on-one fitness classes if they'd prefer personal attention on their fitness journey. Classes include but are not limited to Yoga, TRX, Cycling, and Pilates. 
Physical Therapy
The Club at Admirals Cove also offers physical therapy provided by licensed physical therapists to aid residents in the ultimate recovery after a grueling workout or demanding day on the courts. 

Spa

Hydrotherapy
Unwind in the serenity of the walk-in whirlpools while reaping all the health benefits associated with hydrotherapy, including boosted immunity, muscle rehabilitation, and reduced stress. The peaceful ambiance gives patrons the ultimate conditions for rest and relaxation.





Salt Suite
The salt suite offers the best in halotherapy. Relax in the heated loungers while enjoying the benefits of the illuminated Himalayan salt panels and circulating salt air.




Steam Room
Rejuvenate in the luxurious steam room which features shimmering lights and seasonal fragrances, creating a magic-like atmosphere. Known for its healing advantages, this is the perfect oasis to recover after working out in the fitness facility, on the courts or on the golf courses.



Sauna
Saunas are known for reducing stress, increasing heart health, reducing pain, and purifying skin. The sauna at BlueWater Wellness in Admirals Cove provides all this and more in a stylish yet luxurious atmosphere of subtle lighting and natural wood.


Additional Services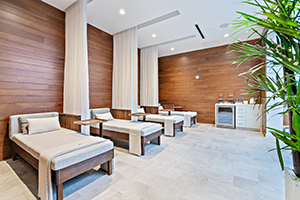 Massage: Residents can enjoy either Eastern or Western-style therapies in the private treatment rooms featuring heated massage beds.
Skincare: BlueWater Spa offers the best in skin care, allowing residents to leave feeling revitalized and rejuvenated.