Tennis
Tennis at Admirals Cove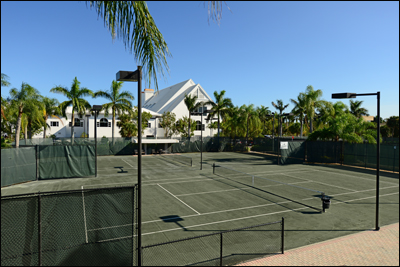 Admirals Cove features 12 Har-Tru tennis courts, four of which are lit for night play. All courts are available to members and their guests. The Tennis Pro Shop offers men's, women's, and children's apparel, in addition to tennis racquets, shoes, and accessories. Individual and group lessons are available, as well as cardio tennis and clinics. As an enhancement to lessons, the Dartfish Video System has been implemented. This allows the staff to provide on-screen corrections as students are able to view their strokes instantly.
Choose from private, semi-private, and group lessons. Lessons may be tailored to the student depending on the skill level. Beginners will be exposed to technical and strategic employments, serving to provide the student a solid basis for further training.
The Racquettes – Group lesson led by Jill Wertenberger. Includes music, fun, and a great workout.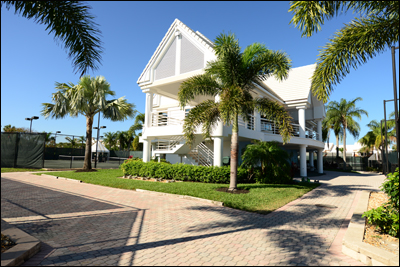 Stroke of the Week – Group lesson focusing on a specific stroke every week. This will give the student an in-depth understanding of the aspects of the stroke and why it works.
Two and Twos – Comprised of two students and two professionals, with emphasis on doubles strategies
A Men's Clinic – Goal is to enhance team performance. Usually one hour, clinics focus on a selected discipline or team strategy each week
Cardio Tennis provides players of all skill levels with a fun cardio group workout. This class is high-energy and includes a warm up, cardio workout, and cool down – a great way to burn the calories and get fit and toned.

Tennis Social Events
Monster Smash:  At this event, all players and observers dress in costume and compete for Best Costume. There is usually a mixed doubles round robin, and treats will be served.
Mixed Inter Club:  Surrounding clubs such as Jonathan's Landing, Frenchman's Creek, PGA, and Frenchman's Reserve come together at Admiral's Cove to honor US veterans. Continental breakfast will be served for players of all skill levels.
Junior Holiday Clinic:  This special event is geared toward children, who will be grouped together according to skill level. They will go through the five major strokes, using games and special equipment.
The Margarita Mixer:  Hosted for 6 years by Bob and Maria Symonds, this event features a tropical island theme, and there is a price for Best Island Attire. With homemade Margaritas, round robin and mixed doubles will be played.
The Grand Slammer:  This event gives you the chance to play in 4 Grand Slam events:  The Australian Open, the French Open, Wimbledon, and the US Open, though each will feature a different format using a handicap. Our staff determines partnerships, and beverages will be served.
Women's Admiral's Cup:  Annual women's tennis event hosted by Nancy Goldman and Susan Holm for women of all skill levels. Staff determines initial doubles partnerships, then partnerships will be reassigned. There is a luncheon in the Clubhouse after play, as well as the presentation of the Sportswoman of the Season Trophy. This event is for players of all skill levels.
Memorial Day Round Robin:  Consists of mixed doubles and round robin for players of all skill levels.
July 4th Round Robin:  Mixed doubles, round robin
Labor Day Round Robin:  Mixed doubles, round robin