Marina
Admirals Cove Marina - Jupiter, FL (561) 745-5930
The Admirals Cove Marina offers the best fuel prices in Northern Palm Beach County by at least 45 cents per gallon.

Ranked 24 out of 100 top private clubs in America, the Club at Admirals Cove offers an incomparable marina with 74 slips. Admirals Cove also ranks number 8 in "most highly regarded communities." Boating enthusiasts may look no further, as there are over 500 private docks available to residents. Admirals Cove Marina offers better fuel prices than Jonathan's Landing, Loggerhead, Jupiter Seasport, North Palm Beach, Intracoastal, and Sailfish Marina.

Admirals Cove features over 5 miles of traversable waterways, and the Marina offers a select number of memberships, in addition to annual leases for a select few. The Marina is located north of Channel Marker 21, just west of the Intracoastal Waterway in Jupiter. The Jupiter Inlet is 2 miles north, and the Port of Palm Beach is 8 miles south.
Admirals Cove Marina in Jupiter, FL with best fuel prices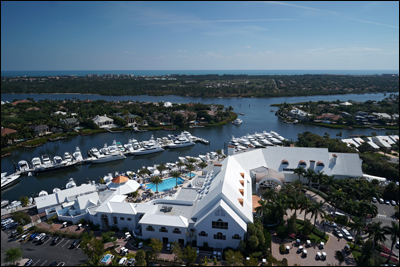 Admirals Cove's Marina offers well-known brand fuel, Havoline and Yamalube oil products, as well as types of additives, stabilizers, and fuel micro biocides. Diesel and gasoline tanks have the capacity to hold 10,000 gallons. Fuel is reordered every three to four months. To ensure the cleanest and most efficient fuel possible, fuel tanks are cleaned and polished every two years, and they are tested at random times by the State Department of Agriculture.
Slips avaliable at Jupiter's Admirals Cove Marina
Leasing a slip at the Admirals Cove Marina grants an all-access pass to the wonderful amenities at Admirals Cove. Enjoy 45 holes of championship golf on the Von Hagge course, as well as 27 holes on the West Course and 18 holes on the East. The Club offers two Clubhouses with casual and formal dining, 32 guest suites in the inn for friends and family of members, a state-of-the-art fitness center, beauty salon, Wachovia Bank, spa, and two golf pro shops. There are also 12 Har-Tru tennis courts on the premises.
In the Old Days...
Long ago, before million dollar yachts moored up to beautifully manicured yachting basin known as the Admiral's Cove Marina, it was a little known "hurricane refuge".   For many years Islanders, from Palm Beach, would send their yachts north, to this "hurricane refuge".  When the hurricane season passed, the vessel returned.  Fast forward many years, The Marina at Admiral's Cove is one of the most weather safe facilities in Florida!  74 marina slips accommodating yachts up to 130 feet, pump out, floating fuel dock, and a ships store. 
Admirals Cove Yacht Club
Another wonderful aspect of Admirals Cove, the Yacht Club at Admirals Cove is a flourishing organization centered around event planning and social events dating from November to June. The Bridge of Officers takes pleasure in coordinating such events as dinner dancing parties, day cruises, overnight cruises, "Docktail Parties," and more, continually proving that the Admirals Cove Yacht Club is not placed amongst ordinary clubs.
Founded in 1990, the Yacht Club at Admirals Cove was established by a group of residents with a keen interest in boating. Eventually, the club's numbers expanded to over 450 members through promoting their interesting in boating, social events, safety, education, and camaraderie. Now, 18 years have passed and the Yacht Club at Admirals Cove is comprised of about 300 members registered in the Yachting Clubs of America. Members gain access to over 600 yacht club facilities across the United States, including favorite vacation spots such as Hawaii, Alaska, and the Virgin Islands. Boat ownership is not mandatory in joining the Yacht Club, and it is open to all equity members and marina residents.